WHAT WE DO
Flood Assessments & Modelling
Cato Bolam offers decades of experience successfully integrating flood management into land development projects, whether it be a flood assessment for a new house, or a 1000 lot master planned development. Over the years, we stayed at the forefront of the latest in technological advances and phased out historic methods of flood assessment (still used today by many) which do not offer the detail needed in today's regulatory environment.
We understand the importance of resolving flood management issues early in the land development design process. Proactive collaboration between architect, civil and stormwater engineers from the outset is essential to ensure a well thought out solution is developed ahead of considerable time and cost being committed to the design for resource consenting purposes.
With the requirement to accurately assess and compare pre-development and post-development flood scenarios and provide detailed flood hazard risk assessments our experienced engineers complete flood assessments using 2d modelling developing robust solutions. They work in collaboration with our architects (or external architects) to deliver a fit for purpose design that also considers future climate change impacts.
With the impacts of recent extreme weather events (2023 Auckland Anniversary weekend floods and Cyclone Gabriel), local authorities are rightly questioning how land in or adjacent to flood affected areas is developed and whether current regulatory standards are fit for purpose. Of note, most recent urban developments designed in accordance with current Council standards have accommodated the extreme flood events as designed and expected.
An excellent example of a recent development performing per design in the 2021 and 2023 extreme weather events is the Kumeu Town Centre. Cato Bolam were the lead engineering consultant on the Kumeu Town Centre and led the flood mitigation design, coordinating inputs from architect, urban designer, traffic consultant, stormwater and civil engineers in what is an extremely complex flooding environment adjacent the Kumeu River. The design and flood modelling were assessed with a high degree of Council scrutiny given the known flood hazards in the area. The fact that Council had abandoned completing their downstream flood berming program added another layer of complication to the design solution.
The photo shows the Kumeu Town Centre and roading adjacent the flooded river (top of image) in the 2021 flood performing as intended, with the actual flood replicating the design flood model with a high degree of accuracy. The 2022 Auckland Council commissioned independent review of the 2021 flood event confirmed that the flood impacts as observed in the newly constructed Kumeu Town Centre were in accordance with the predicted design models.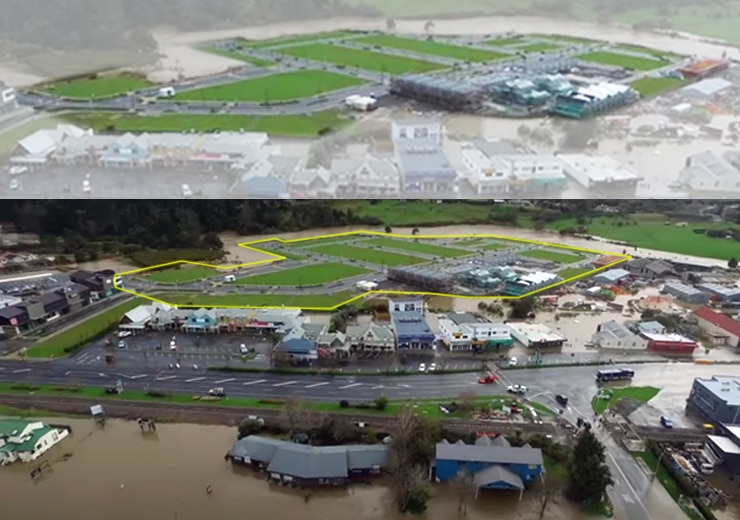 Using the latest stormwater design assessment methods and modelling design outcomes that consider flooding impacts early in the design process is essential to determining a functional design in the most efficient manner.
Designing and delivering resilient outcomes for our clients, communities and future generations is ingrained in our processes. A proactive, collaborative approach to flood assessments is essential for the successful design of any land development project.
Find out what opportunities exist for your property.
Book a free discovery call today