Written by Kaaren Joubert | Planning Manager | Cato Bolam Consultants
Auckland Council's Planning, Environment and Parks Committee has recently resolved to engage Aucklanders in a special 4-week consultative process from 6 June 2023 regarding a draft Future Development Strategy ("FDS") that has been prepared by Council staff. The FDS, when finalised, will replace parts of the existing Auckland Plan 2050, the Development Strategy 2018 and the Future Urban Land Supply Strategy 2017. As the draft FDS proposes some major changes in these current documents it is well worth while having a close look at what it proposes.
Central government has driven change through its legislative programme, particularly through the National Policy Statement on Urban Development 2020 ("NPS-UD") and environmental and climate legislation. This change has significant implications on Auckland. The draft FDS responds to the NPS-UD, which requires councils to ensure there is at least sufficient housing and business development capacity to meet demand over the next 30 years. Based on what would be the total enabled capacity under Council's Plan Change 78 as notified, the draft FDS does not identify any significant new areas for growth. However it does outline a greater focus on where, how and when development take-up occurs. Figure 1 below shows areas where the funding, or partial funding, of investments has generally been secured, and where greater certainty about their likely progress can be prioritised. The short to medium term priorities (1-10 years) include:
Auckland Housing Programme priorities in Mt Roskill, Mángere and Támaki;
The city centre;
Westgate; and
Drury-Opakheke area.
Beyond 10 years the Council considers that longer-term prioritisation cannot currently be done with any degree of certainty. Figure 1 shows some potential major development locations within the major project corridors as red dots. These locations may become future priorities for investment. As these are based on broad assumptions, more work on the development impacts of these major projects will be needed before any more definitive prioritisation can occur.
The draft FDS also proposes removing areas for urban development in whole or in part due to hazard risks (i.e. natural, natural environment, natural heritage, highly productive land, cultural heritage). In the short term the most constrained areas for future development that are proposed to be removed by rezoning to a non-urban zoning include Hatfields Beach stage 2, parts of Kumeû-Huapai-Riverhead, Takanini and parts of Drury-Opaheke. Areas with moderate exposure to hazards that are proposed for further investigation are Warkworth North-east and Warkworth South, Dairy Flat, Wainui East, Upper Orewa, Kumeû-Huapai (whole FUA), Riverhead, Albany Village 2 and Oruarangi 2.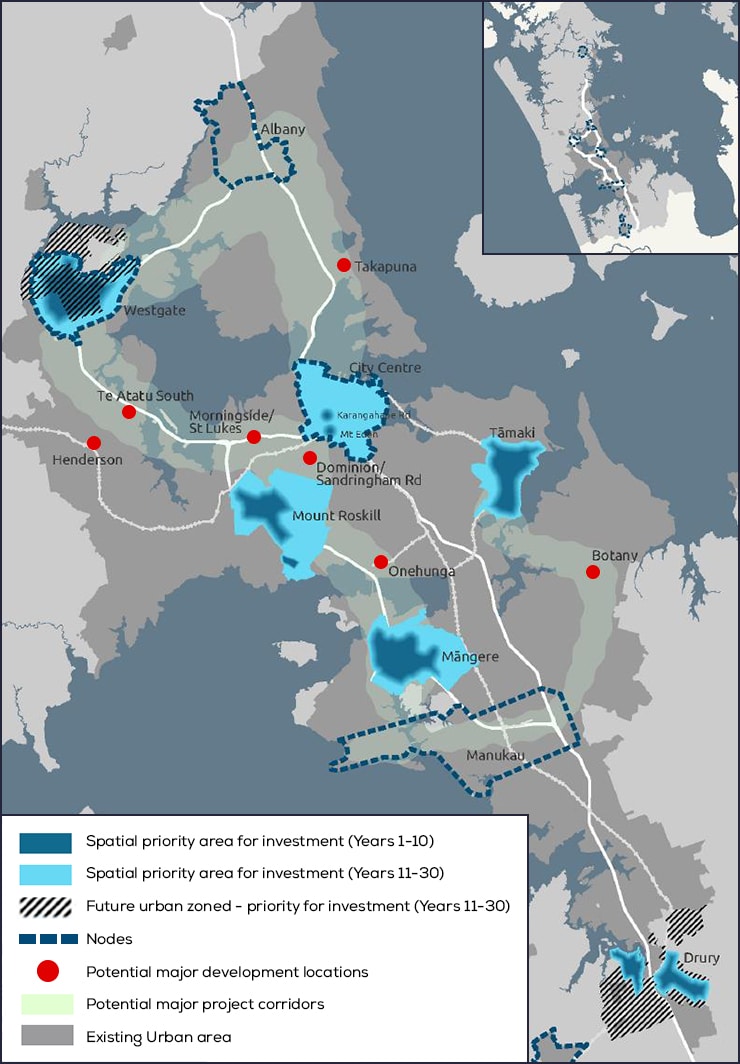 The overall aim is to ensure that as much of the development capacity available is focussed in locations close to employment, services and rapid transit networks. The timing for introducing new (greenfields / Future Urban zoned) areas is generally pushed back from past planning timeframes and is based on infrastructure triggers (i.e. when all the required bulk infrastructure can be provided). The implication is that wider areas where land is live zoned through plan changes, which cannot be serviced by existing bulk infrastructure, are excluded from at least the first 10 years. It is proposed to regularly review infrastructure programmes to ensure they reflect the latest information – see Figure 2 below.
The council plans to follow the principle that, where plan-enabled capacity is reduced or constrained, over time forgone capacity will be offset by creating additional capacity in such locations, so that overall capacity is broadly maintained.
Rural residential growth is proposed to predominantly be focused on towns that provide services for the wider rural area, particularly rural nodes of Warkworth and Pukekohe with less growth in the smaller towns and villages. Rural lifestyle growth is proposed to remain focussed into areas zoned as 'countryside living' and only a small amount of growth will be provided for in the wider rural area outside of Warkworth a d Pukekohe.
To implement the proposed directions the draft FDS identifies broad categories of supporting actions for its implementation as being:
changes to the Auckland Unitary Plan (AUP);
investment prioritisation; and
advocacy, research and non-statutory approaches.
Where to from here? Following finalisation of the FDS, a comprehensive implementation plan will be developed by Council in accordance with the requirements of the NPS-UD. It is envisaged that the implementation plan will be reviewed annually and updated as required to respond to emerging challenges and change.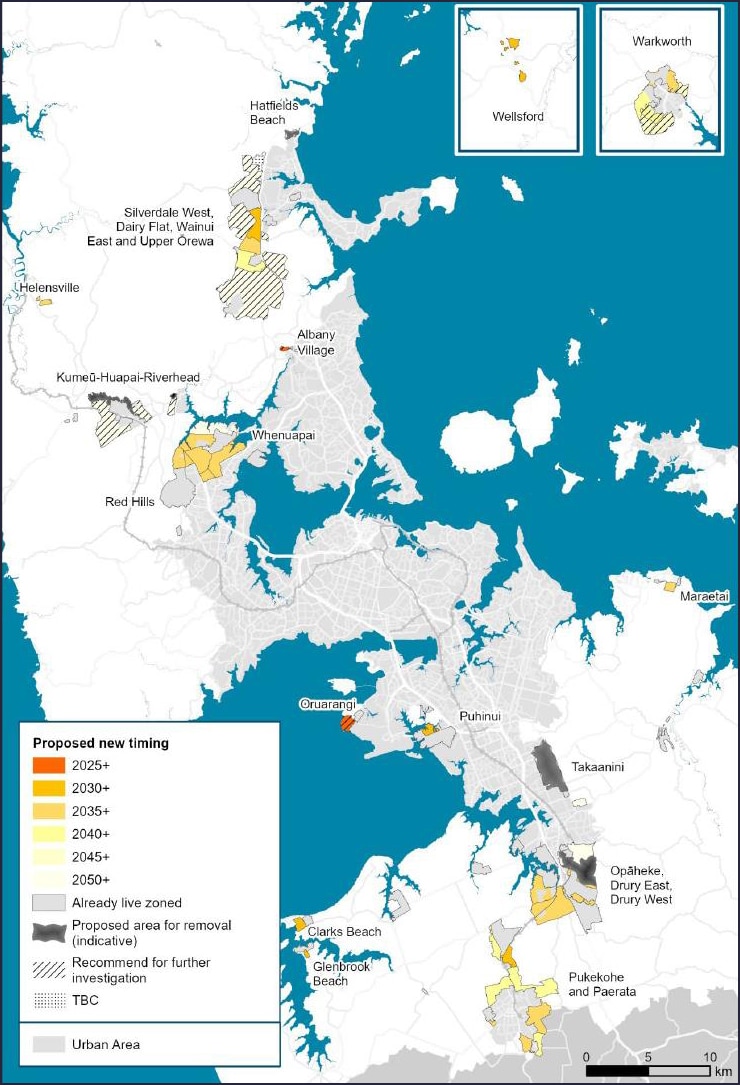 Consultation on the draft FDS began on 6 June 2023 and has now been extended to 31 July 2023. The consultation details, including Council's evidence reports that informed the draft FDS, will be available on Council's website and advertisements in newspapers/media. There will also be targeted consultation with stakeholders and some drop in sessions. Public can make written submissions on the draft FDS for Council's consideration. At the close of the public consultation period the Local Boards' feedback will be sought during August and September 2023. Council expects that the proposed final FDS will be presented to the Planning, Environment and Parks Committee in late 2023 for adoption. There is unlikely to be an opportunity for submitters to be heard by this Committee.
Cato Bolam's planning team have the expertise to provide advice on the draft FDS's implications for landowners. Please contact Kaaren Joubert, our Planning Manager, via [email protected] in the first instance.
Or get in touch with our team using the contact button below.