Written by Peter Reaburn | Director | Cato Bolam Consultants
The New Housing Supply Bill, if it becomes law, will force changes to all of New Zealand's major city district plans. In simple terms it prescribes new Medium Density Residential Standards (MDRS) standards for how residential sites can be developed. The new standards will apply from the date they are notified (August 2022), and then will only be amended by a streamlined submissions and decision-making process after that, with (essentially) the Minister for the Environment having the final say.
For most residentially zoned sites the new standards will allow three dwellings per site. Provided the new standards can be met there are no prescribed minimum site areas. Each dwelling is allowed to be 3 stories in height (11m) and much more flexible height in relation to boundary standards will allow this to happen on most sites. Compared to current rules more generous building coverage is allowed for and reduced areas of private outlook spaces and yards are also possible. Interestingly, though, the impervious coverage allowance (60% of the site area) is relatively conservative and will become the major determinant on the amount of building and at-grade parking can be developed.
Current rules requiring resource consent for more than three dwellings on a site will still apply, except those applications that comply with the new standards cannot be publicly or limited notified.
The new standards will apply on most existing residential sites and must be incorporated in any future plan changes for new residential zonings. The standards will not apply in Large Lot residential areas or rural areas.
The new standards will have impacts everywhere, but the most significant changes will be where current zones only allow the building of one dwelling – such as the Single House Zone in Auckland. It will be a "Single House" zone no longer, as three dwellings would be permitted.
Councils have a limited opportunity to argue that some areas should be excluded from the new standards. Existing heritage and character areas are likely to be investigated to see if they should or can be excluded. But current indications are that the bar to enable these areas to be excluded is quite high.
Once the Act is passed and there can be confidence in what is coming it is likely that developers will proceed with designing to the new standards, with the intention of submitting them for building consents as soon as the new rules apply. August 2022 is looking to be a busy time for Council consents staff.
We have produced a more thorough outline of the new standards and a comparison of the MDRS vs existing AUP Residential development controls.
Examples
We have sketched up examples of how the proposed new standards might work in both the Single House Zone and the Mixed Housing Suburban zone.
In the Single House Zone most sites are in the 600-900m² range and, in general, are currently limited to one dwelling and an associated minor dwelling. Allowing a total of 3 dwellings per site will open up new opportunities such as the potential for two further units on the back of an appropriately positioned existing house. In our experience this option will offer the most cost-effective development solution having regard to the maximum density allowable and minimising build cost. An example of what may become a typical development is shown here.
In the Mixed Housing Suburban and Mixed Housing Urban zones it is the new more flexible standards that will allow for the biggest change. We expect to see a change in the type of housing provided, with developers trying to balance the building mass potential that would be allowed by the extra height possibilities with the comparatively low allowable impervious area coverage.
The examples below show a typical Mixed Housing Suburban site with two development options meeting the rules that currently apply.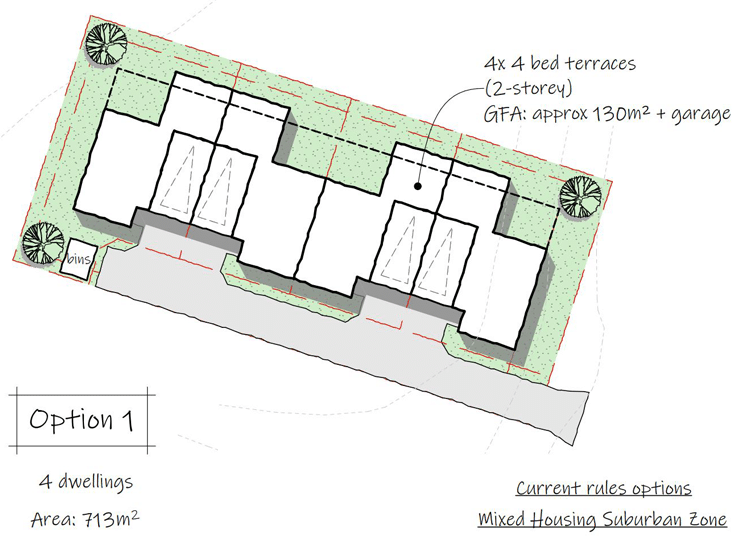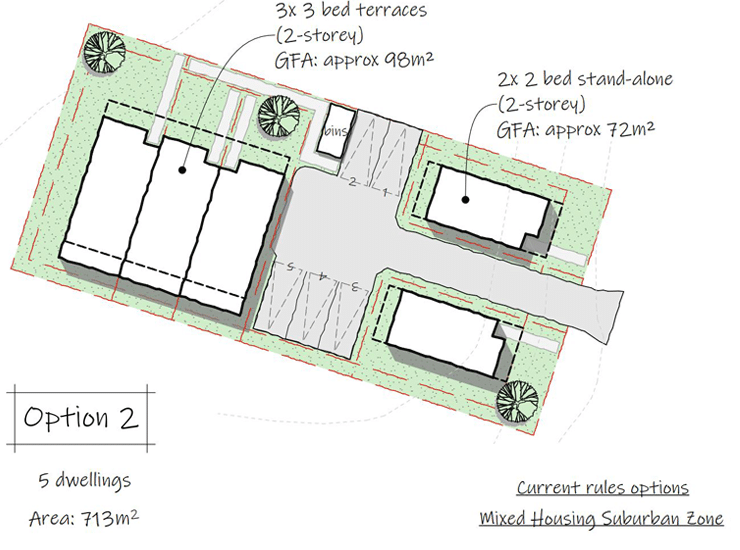 If we then apply the development standards proposed under the new Bill to the same site, we can see the potential increase in yield. The three levels possible, increased building coverage, more relaxed height to boundary controls, shorter outlook requirements and (to also be expected) flexibility around providing parking all result in more building mass being possible. The main limiting factor is the amount of impervious area – in a relative sense that is much more so than is the case under current rules. The 60% impervious area standard will play a major role in determining where parking areas, garages and access driveways will be – more parking will mean less dwelling yield. This will likely result in developers having a harder look at whether on-site parking is necessary and should be provided. In this example, we have found that by reducing carparking numbers, we are able to work closer to the newly allowable building coverage. This example shows a range of housing typologies with studios and 1-bedroom apartments providing a total yield of 11 units vs the 4-5 units possible under current rules.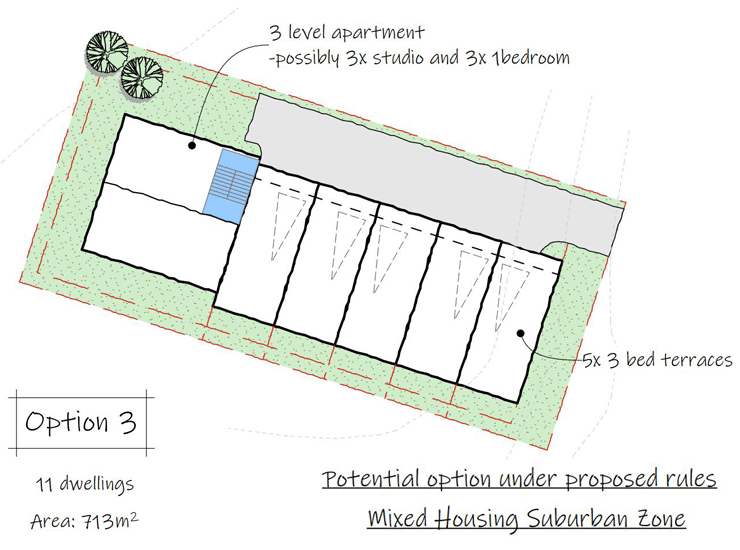 Update
The New Housing Supply Bill passed its third reading and will shortly become law. The amendments to the RMA aim to rapidly accelerate the supply of housing to address some of the issues with housing choice and affordability that New Zealand currently faces in its largest cities. The new Medium Density Residential Standards (MDRS) will be introduced by councils, including Auckland Council, and have varying effect from August 2022.
We welcome you to read our most recent article at the link here
Resource Management (Enabling Housing Supply and Other Matters) Amendment Bill Passed
We welcome you to learn more about how we can assist with the development feasibility for your property at the following article.
The Importance of Initial Development Feasibility and Concept Option Analysis
Need advice on what you can do with your land? Complete the form on our contact us page and one of our representatives will be in touch.