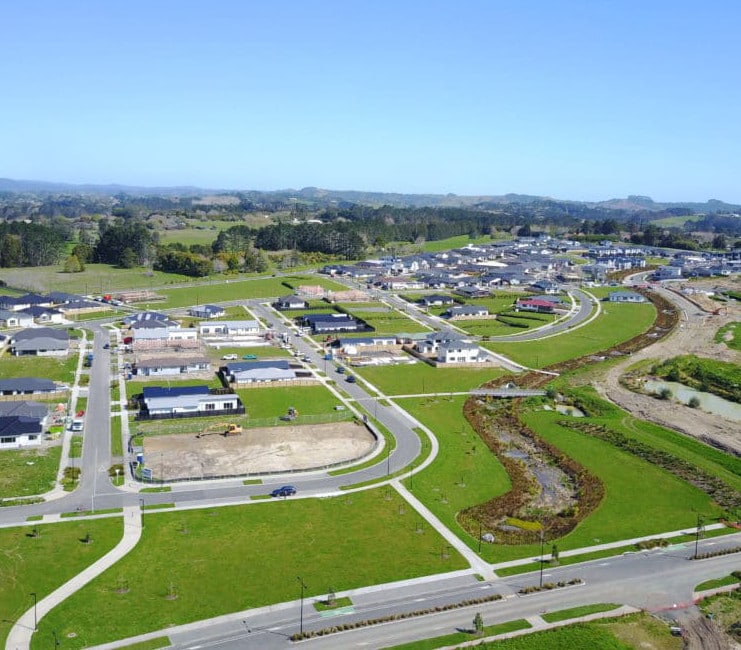 Large Urban Subdivision
Structure Planned Special Housing Development
We were involved in this unique project from the start with the rezoning plan change and then developing three sub-precincts with neighbourhood parks and centre, residential and retirement living.
Project Expertise
Project Management, Engineering, Surveying
Project Completion
Ongoing – Multiple Stages
Project Value:
$60m +
Project Lead
Engineering Manager
The Details
The Huapai Triangle Project was developed under the Housing Accord and Special Housing Areas Act 2013, with the purpose of enhancing housing affordability by facilitating an increase in land and housing supply.
We were involved in the Plan Change to rezone the land, providing expertise in developing the Structure Plan. The Structure Plan provided for an integrated development with a central Neighbourhood Centre and Parkland with surrounding residential living of up to 1,200 Lots and connectivity to the adjacent Huapai and Kumeu Townships.
We were the lead consultant providing Planning, Engineering and Surveying expertise for the construction of the first Qualifying Subdivision Development and have continued as the lead consultant for the surrounding three sub-precincts developments, including;
Standalone, terraced housing lots, retirement village and neighbourhood centre
Network of roads and pedestrian linkages, including upgrades on exiting Collector and Local roads
Series of stormwater reserves and parklands for migration and providing amenity for residents
Our involvement from concept to completion with multiple landowners has led to an integrated development with benefits to residents and the surrounding community.