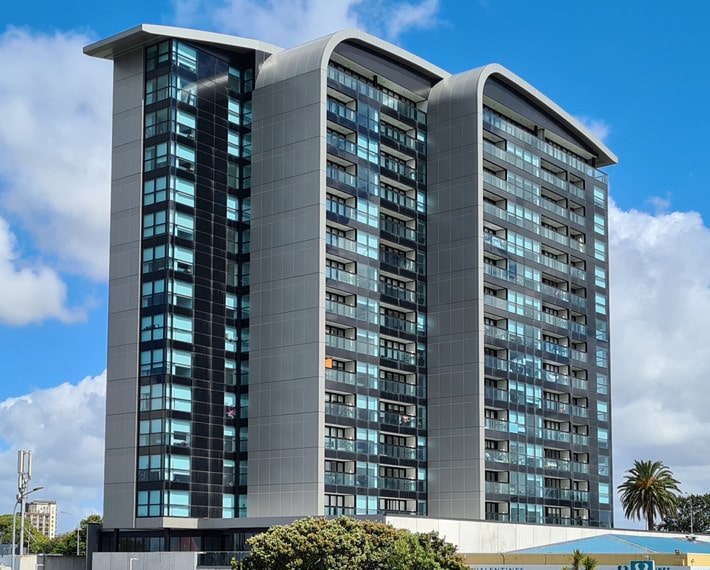 Lakewood Plaza
Residential Apartments
Manukau, Auckland
Set within Auckland's Southern Corridor, Lakewood Plaza provides 151 apartment units in a stunning 15 storey building which has quickly become an icon in the heart of Manukau City.
Project Expertise
Planning, Civil Engineering, Surveying, Resource Consents, Land Use Consents, Project Management
Project Completion
2020
Project Lead
Director - Manukau
The Details
Our clients saw potential in this central Manukau location for a multi-level apartment building, of stunning design. The building was to offer high amenity living in a location close to all of the destinations a regional centre provides – shopping, restaurants, public transport, education facilities and employment. The location was also right next to Auckland's southern motorway and close to the airport. It was exactly the location Auckland's growth strategies were seeking for high density living.
Cato Bolam worked with the client and architects to plan and design a 17-level building, accommodating 151 apartments including 91 two-bedroom dual key units, 56 two-bedroom premium suites and 4 three-bedroom luxury penthouses, with a dedicated concierge service. We set up a team of planners, engineers and surveyors, consistent throughout the design and establishment stages, thus ensuring efficient and transparent project management from start to finish.
Cato Bolam planners quickly established that, while this was a location with a previously relatively low-scale commercial flavour, residential and mixed-use activities were enabled by the planning rules. Auckland Council was approached at an early stage and was receptive and encouraged by the unique design. Everyone agreed that there was potential for this to become an iconic building celebrating and supporting one of Auckland's prime metropolitan centres.
Resource consent applications were prepared and processed non-notified in short time. As well as the land use consents required, Cato Bolam managed the processes relating to unit-titling of the apartments and commercial premises. At construction stage, Cato Bolam was involved in project managing and supervising the civil works, greatly assisted by our Manukau office being located just walking distance away.
The project was successfully completed in 2020 and has already achieved an iconic status. This is a development Cato Bolam is most proud to have been involved with as the lead consultant in major disciplines.
Read more about this project at Du Val Group's website.