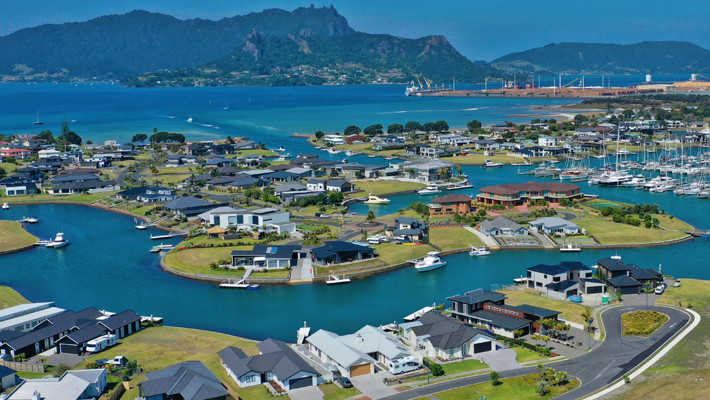 Marsden Cove
Master Planned Marina and Canal Housing Development
Marsden Cove, Whangarei
Marsden Cove is a unique and comprehensively planned marine village located within the mouth of the Whangarei Harbour offering unprecedented residential waterfront and non-waterfront living, retirement village, marina facility and retail opportunities.
Project Expertise
Surveying, Resource Consents
Project Completion
On-going
Project Lead
Director - Orewa
The Details
Marden Cove offers a lifestyle like no other just within the mouth of the Whangarei Harbour. The lifestyle opportunities include canal front and non-canal front sections, retirement village living, a world class marina facility and retail shopping a relaxed seaside marine environment.
The bustling waterfront retail area is equipped with a café, hair and beauty salon, general store, marine services (including New Zealand's newest boat haul-out service and hard stand facility), real estate agencies and a fishing club.
Cato Bolam has played an integral part in this unique multi-staged legacy project partnering with Hopper Developments since its early inception. Our surveyors and planners have worked closely with the Hopper team to develop of the master concept and subdivision plans, provide planning advice, leading the resource consent and planning process to secure approvals for each stage. Our surveying services also include the on-going; engineering surveying, construction set out, control surveys, settlement monitoring and complex cadastral surveying required to secure survey approval, and project managing the 224c completion certification process to secure the new residential freehold, canal freehold and stratum estate titles.
We are proud to continue our work as key contributors on the development team to deliver the final stages of this iconic coastal development.
Cato Bolam have been our main consultant on all our comprehensive community multi-staged developments and their professional delivery of services and advice has been exemplary.
Tim Brooks, Hopper Developments Ltd
You can read more about this project at our partners website here.