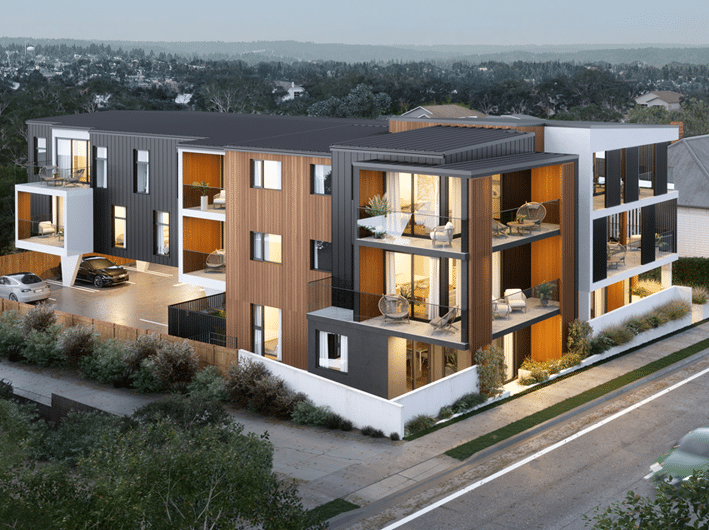 On Coronation
Mixed Use Development and Unit Title Subdivision
Mangere Bridge
On Coronation is a mixed use development combining 22 stunning architecturally designed apartments and two commercial / retail units, bringing executive modern living to Mangere Bridge.
Project Expertise
Planning, Civil Engineering, Surveying, Project Management
Project Completion
Late 2022
The Details
On Coronation is a bespoke mixed-use development in Mangere Bridge with 22 new residential units and two commercial / retail units.
A unique challenge of this project is the relocation of an existing villa, which is a category B scheduled building, to a more prominent corner location and the villas' conversion to a complementary land use (residential or a café/restaurant). A landscaped context for the villa will be maintained, such that the heritage values of the building and its contribution to the character of the area is not lost.
The new buildings are located to the north and west of the villa, and the design of these structures has been carefully considered to best respond to the shape and orientation of the site, with a combination of under croft and surface parking.
The buildings will be oriented within the site or out over street, maintaining the amenity and privacy of adjacent sites. The design is well-modulated and articulated for visual interest and will contribute positively to the planned future character of the area. The buildings are a maximum of three stories, and 9m in height, maintaining compliance with the regionally significant volcanic viewshaft and height sensitive area overlay. Adverse visual dominance or shading effects to adjacent sites will be avoided.
In addition to providing planning, surveying and engineering services, Cato Bolam is project managing site construction including sediment control, engineering supervision and monitoring and accidental discovery protocols with suitable on-site stormwater quality and treatment control.
We are proud to partner with Nest or Invest Group on this unique development, read more about On Coronation at their website.