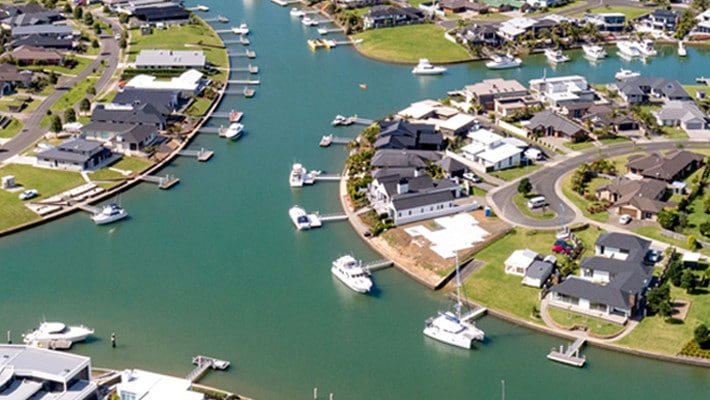 Whitianga Waterways
Master Planned Marina and Canal Housing Development
Whitianga, Coromandel
Whitianga Waterways is a master planned canal housing, marine precinct, and commercial development extension to Whitianga. A unique feature is the ability for canal front homeowners to berth their boat on private jetty's adjoining their sections. The development planned for 1500 homes is half complete. The mix of canal and non-canal front sections provide for a high-quality marine environment perfect for swimming and a wide range of water based activities.
Project Expertise
Planning, Resource Consents, Surveying, Project Management
Project Completion
On-going
Project Lead
Director - Orewa
The Details
Cato Bolam has been involved in this iconic waterway project since its inception in the late 1990's. Over 30 years we have been providing planning advice, preparing concept and development plans, securing resource consents, and providing surveying services.
Our surveying services include engineering surveying, construction set out, control surveys, settlement monitoring and undertaking the complex cadastral surveying to secure survey approval. Our team also works closely with Hopper Developments and their legal team project managing the 224c completion certification process to facilitate the release of the new residential freehold, canal freehold and stratum estate titles.
This unique waterfront development, now half complete, has presented unique challenges associated with coastal hazards, climate change and sea level rise that our team has successfully resolved.
We are very proud to be on the Hopper Development team partnering in the delivery of this iconic Whitianga Waterways development.
Cato Bolam have been our main consultant on all our comprehensive community multi-staged developments and their professional delivery of services and advice has been exemplary.
Tim Brooks, Hopper Developments Ltd