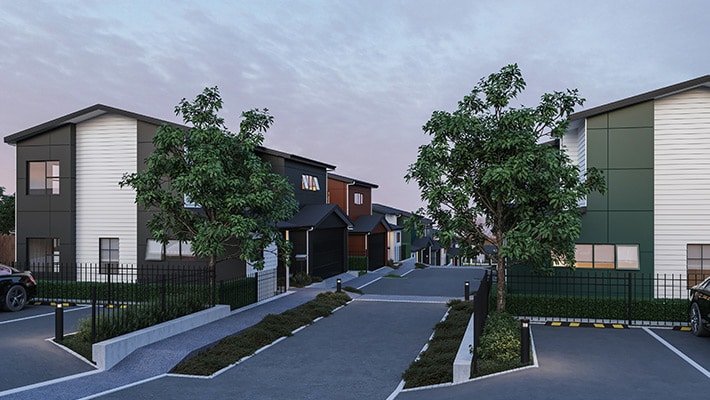 Residential Apartments
Manurewa, Auckland
The Alfriston Studios development contains 118 fully furnished studios on 22 titles with 54 carparks providing an affordable option in studio type accommodation for South Auckland.
Project Expertise
Surveying, Engineering
Project Completion
In Progress
Project Value
Estimate $20m
Project Lead
Director - Manukau
The Details
The efficiently designed and bespoke Alfriston Studios development will contain 118 fully furnished studios within 22 separate titles, with 54 carparks. The medium-density housing development will be established in the growing area of Manurewa, which is prime for studio accommodation being in close proximity to employment, transport, infrastructure, and amenities.
Cato Bolam were engaged to provide land development services including; the civil engineering and freehold title subdivision, from building consent stage through to completion.
Our engineers and surveyors worked closely with the architect, geotechnical and structural engineers to provide well-coordinated and efficient design solutions, they also assisted the client with the construction management while concurrently completing the titling.
"Clarke Group has worked with Cato Bolam (as our civil engineering consultancy) for the majority of our residential development projects in Auckland. We have been very satisfied with their diligence and efforts in ensuring all projects run smoothly and on time."
Chris Scott, Clarke Group